Congratulations to our Student of the Month: Caleb L. (Brazilian Jiu-Jitsu Kids/Teens)
Hi Caleb, can you please tell us a little bit about yourself?
I like to work hard to achieve goals and am not a lazy boy.
Why did you start training Jiu-Jitsu?
I started training Jiu-Jitsu because I wanted to learn self-defense and was interested in BJJ from the very first time I was there for the Free Week Trial.
When did you start training Jiu-Jitsu and how often do you come to class?
I started training Jiu-Jitsu last November and I normally go about 2 times per week.
What is your favorite thing about Jiu-Jitsu class?
My favorite things about Jiu-Jitsu are the games and sparring because that helps me become faster.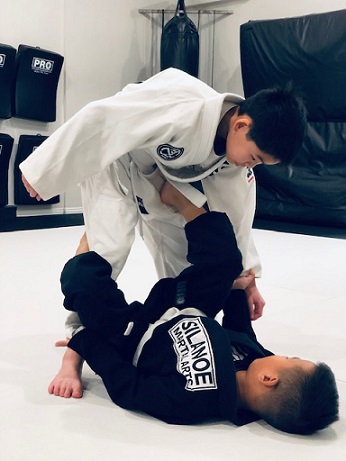 What do you like most about Professor Gino's teachings?
When Professor Gino corrects me I improve a lot. Sometimes I don't do it the right way and Professor Gino takes the time to show me how to do it correctly by demonstrating the technique to me.
Questions for Caleb's mom Vanessa
What improvements have you noticed in Caleb since he's been doing Jiu-Jitsu and is there anything else you would like to share with our readers?
I noticed that Caleb has gained so much in self-confidence. He listens better to me about eating more nutritious foods. He drinks more milk, eats veggies, and meat than before. Caleb is happier now than prior to Jiu-Jitsu. The school teachers could tell the difference in him after just the first few weeks he had started Jiu-Jitsu lessons. Caleb's teachers told me that I have made a good choice putting Caleb in Brazilian Jiu-Jitsu. Caleb now makes sure that he finishes doing his homework before going to his Jiu-Jitsu lesson.
Thank you so much, Professor Gino, you do a great job👍👏🙏🙌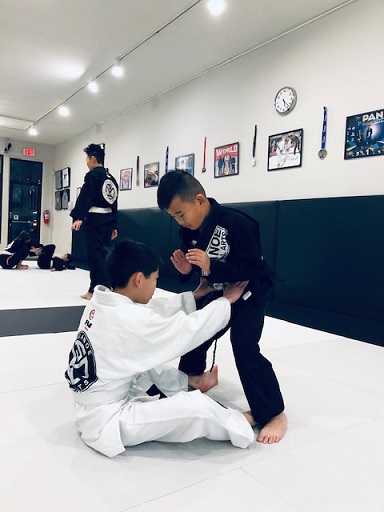 Caleb's school teachers told his mom that he was doing better in school after he started training Jiu-Jitsu.
Caleb's teachers told his mom Vanessa that she made the right choice to put Caleb in Brazilian Jiu-Jitsu. He now listens better to her she has been noticing. If you would like to see if your kids benefit from training Jiu-Jitsu request a Free Week Trial or read about other Students of the Month such as Kalani Y.