Hi Josh, please tell us a little bit about yourself.
I am Josh Garza and live in West Covina. Currently, I am enrolled in Citrus College. I have three brothers and one sister. Three of my cousins attend Jiujitsu with me.
What classes do you take and what got you interested?
The Jiu-Jitsu adult gi classes at 7:15 pm are the ones I take. When I am training for a competition I will go to the fundamentals class also. My cousins got me into taking Jiu-Jitsu.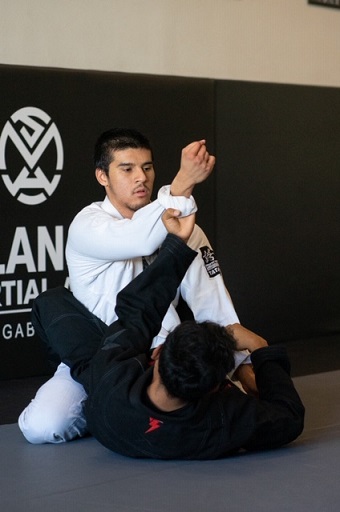 How long have you been training and what is your current belt rank?
I have been training for over a year now and I am a 2 stripe white belt.
What is your favorite part of the Jiu-Jitsu class?
My favorite part of the class is the rolling at the end with everyone. I really like seeing my progress.
You have recently been doing a lot of BJJ competitions, how do you prepare for them & what's your favorite part of competing at tournaments?
To prepare I attend class more often and workout harder at the gym. My favorite part of competitions are seeing the different types of fighters there are at my weight class and how i can hold up against them..
What current and future goals do you have?
My future goals include graduating with a degree in Kinesiology, compete in more tournaments until I get a gold medal, and gain some more weight.