Our free Self Defense Seminar
The community a safer place to all
One of our aims is to make the community a safer place to all. Unfortunately, crime will always be a part of life. One way we like to contribute to the community is by offering self defense seminars free of cost. We held our self defense seminar the 20th of May. It was great to see people attending from from all over the county. We had attendees from Glendale, Pasadena, San Gabriel, San Marino, Alhambra, Temple City and Monterrey Park. These people all realized the importance of learning how to defend yourself.
Hard working attendees
Some of our students helped us organizing and assisting with the techniques.
Not only did we show practical ways to defend oneself, we also talked about awareness. It always better than to cure. After a warm up, we covered some of the scenarios one could encounter.  We then showed how you could get out, escape and control the situation using a variety of techniques. Most of these self defense oriented techniques can be either found in Brazilian Jiu-Jitsu or Muay Thai.
A total of 5 self defense techniques were shown first, and the attendees were giving time to practice them after the instructions.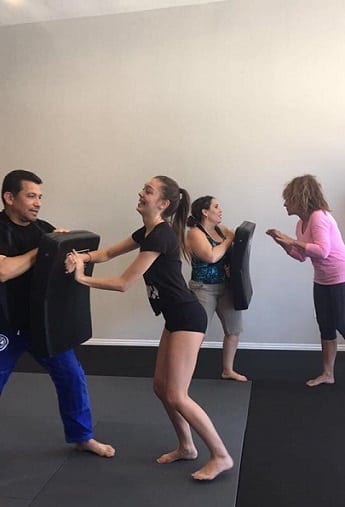 Time to get to know each other
After the seminar we all sat down and ate together. We provided some delicious healthy sandwiches and drinks. It was time to wind down and relax and review some of the techniques. We were able to really get to know some of the people that came to our seminar. We had a great time and want to thank everyone for attending, and hope to see them all back at our next self defense seminar.
Want to learn how to defend yourself?
Martial Arts will make you able to defend yourself. You will be more confident and you will have fun getting in shape. Tryout our Martial Arts for free here or check out our schedule here. Don't forget to read more about our events such as our Self-Defense Seminar for the South Pasadena Girl Scouts or our 1st year anniversary.